Henley puts 2016

behind him as he wins
Shell Houston Open

By Cameron Morfit, PGATOUR.COM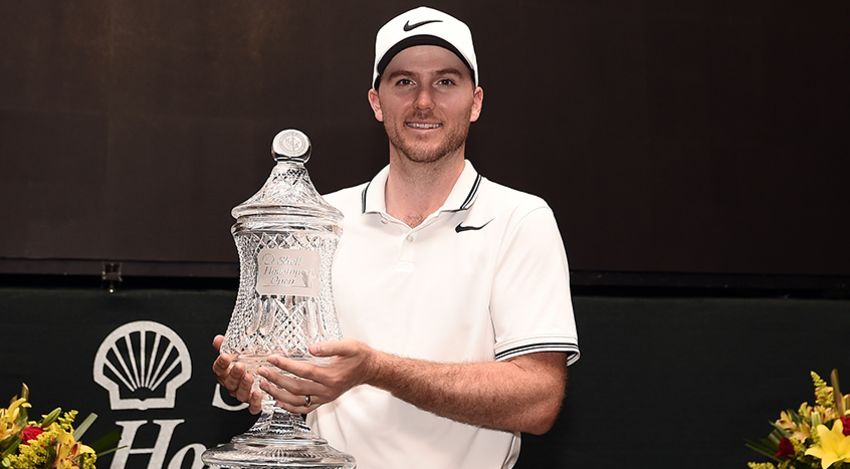 A year ago, Russell Henley came to the Shell Houston Open having missed five straight cuts. (Stacy Revere/Getty Images)
HUMBLE, Texas – Notes and observations from Sunday's wet and wild final round of the Shell Houston Open, where Russell Henley racked up 10 birdies and shot a 7-under 65 to win for the third time on the PGA TOUR.
A dire weather forecast forced officials to move tee times up and send threesomes off both tees, but the round was played uninterrupted and Henley prevailed despite trash bags turning into wind socks. His victory came with an invitation to the Masters.
Sung Kang, seeking his first career win on TOUR, shot a final-round 72 to finish second, three back. Luke List (68) and Rickie Fowler (70) tied for third at 16 under.
For more coverage from the Golf Club of Houston,
click here for the Daily Wrap-up.
---
HENLEY SHAKES OFF ROUGH 2016
Henley looked like one of the best players in the world as he shot three 63s en route to winning the 2013 Sony Open in Hawaii, then backed it up with another trophy-winning performance at The Honda Classic the following year.
But he was never as confident as he looked.
"I was lost with my swing and questioning everything," said Henley, 27. "I think that happens when you play against the best players in the world."
For all of Henley's fireworks when he was on, he struggled with consistency. He finished 44th in the FedExCup race as a rookie in 2013, 19th in 2014—still his best season—and then dropped well out of the top 50. A year ago, Henley came to Houston having missed five straight cuts.
But for Henley there's just something about the Golf Club of Houston, where he says he knows "where to miss." He broke his missed-cuts streak with a T5 finish last year, hardly surprising in light of his T7 in 2014 and solo fourth in 2015. And now he's a winner. Houston is Henley's happy place. His 65 on Sunday marked his 13th consecutive round under par here.
After he had signed his card and several autographs, and posed for pictures, he said two of his most crucial birdies came on his last two holes Saturday, when he cut Kang's lead to four.
"I was six back going into 17," Henley said, "and I was walking up the fairway and I said, 'You know, everybody is real happy right now and it's a nice day out, everybody is watching golf, and, you know, and it seems like Sung is going to win this thing. Let's bear down. You don't know what's going to happen. You never know what's going to happen in this game."
The victory moves Henley from 52nd to 11th in the FedExCup standings. He was looking forward to a cheeseburger and maybe some ice cream with his wife Teil on Sunday night, a departure from their dinner of choice through the week—Mexican food. He said he hoped someone was taking care of amending his travel plans; Teil laughed about not having packed for Augusta.
Instead of going home, they're going to Augusta.

---
KANG POSTS BEST FINISH ON TOUR
Sung Kang won new fans as a gritty competitor who could dazzle with his game when he was on, as he was while going 16 under par for the first two rounds.
He spun his wheels in the wet, windy conditions Sunday, making par after par as Henley caught him and then passed him. Kang's last chance to win might have come at the rowdy, par-3 16th hole, where after hitting his tee shot to just inside five feet for birdie, he missed the putt.
After setting a tournament record through 36 holes, he could only manage to shoot 1 under on the weekend. The silver lining: Kang's solo second was his best finish on TOUR, topping his T3 at the 2011 Children's Miracle Network Hospitals Classic.
"You know, this week going to be very memorable for me," Kang said. "I played really solid the first few rounds, and then it shifted for two rounds. Russell just played great. He played like I did the first two rounds. He putted really well, made almost everything."

---
FOWLER FALLS BACK ON FRONT NINE
Many observers might have guessed the biggest Sunday charge up the leaderboard would come from Fowler, who was closest to Kang at just three strokes behind. Fowler went the wrong way, though, going 3 over for his first four holes.
"Just an alignment problem that just caused me to make a couple bad swings," Fowler said.
He hooked his drive into a swampy bog and double-bogeyed the second hole, then hit roughly the same shot—this time hitting driver off the fairway—into a lake to bogey the par-5 fourth.
"Cost me a few shots," Fowler said. "Nice that I got it turned around and started to make some good swings and made some birdies and fought back, got a good finish out of it."
Fowler birdied five of his last 11 holes to tie for third place, four shots behind, and wound up with a career-high 27 birdies in Houston. That was tied with Henley for tops in the field.
All in all, he said he was encouraged by the result.
"Russell played awesome today," Fowler said. "It was fun to watch. Nice to at least kind of jump on the birdie train with him on the back nine. Happy for him and [I will] see him here in a couple days at Augusta."
Labels: US PGA TOUR