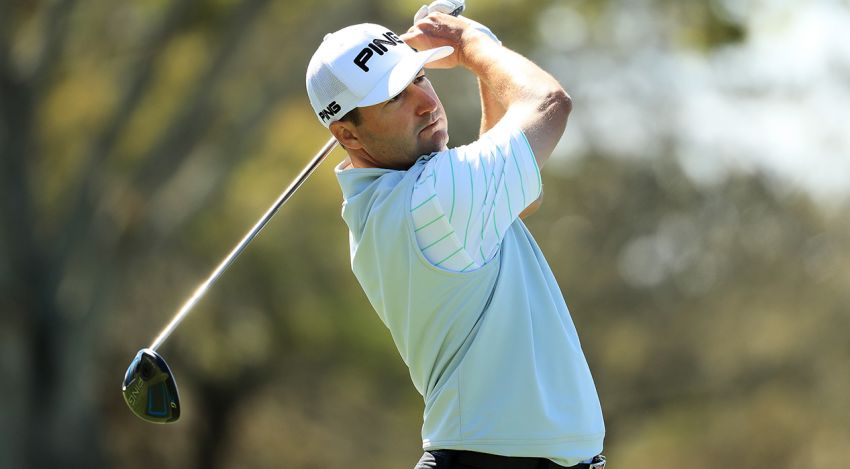 Rob Oppenheim is part of a three-way tie for the lead at El Bosque CC after an opening, 7-under 65. (Richard Heathcote/Getty Images)
LEON, Mexico – Sebastian Munoz and Rob Oppenheim took advantage of favourable scoring conditions at El Bosque Country Club on Thursday morning and grabbed a share of the first-round lead from at the Web.com Tour's El Bosque Mexico Foursomes Championship.
Web.com Tour rookie Sepp Straka closed his round with four birdies in the last five holes to join the pair at the top. The trio navigated the Steve Newgent design in matching 7-under-par 65s and lead by one over Tyler Duncan, Scott Harrington and Taylor Moore
.
Six players are knotted at 5-under par, two back heading into Friday's second round.
Oppenheim is making his fifth appearance in Leon this week. The 37-year-old from Salem, Massachusetts, recorded his lowest score at El Bosque CC on Thursday morning.
"Today the greens were soft and there was no wind," said Oppenheim. "I got the putter going and anytime you make that many birdies, the putter is pretty hot."
Oppenheim had a volatile opening nine, making four birdies to three bogeys. He didn't let bogeys at six and nine discourage him. Last year, the par-4 ninth played to a stroke average of 4.397 and was the second hardest hole on the Web.com Tour.
"You don't want to make bogeys but those are difficult holes," said Oppenheim. "I knew I was playing pretty well and there were plenty of opportunities on the back nine."
Oppenheim went on a tear coming home, making birdies at 10, 12, 13, 15, 16 and 17. He was inches away from carding 11 birdies in the first round, as his fourth shot slid just past the hole on the par-5 home hole.
"I didn't even know until I signed my scorecard," said Oppenheim, about his 10-birdie day. "When you do something like that, you don't realize it until the round is over. It's nice to be in that kind of groove; you don't do that too often."
Oppenheim has played in four events on Tour this season and is currently No. 42 on the money list. Last year, he played the US PGA TOUR full time and ended the season No. 158 in the FedExCup standings.
Even though he didn't regain his TOUR card through the Web.com Tour Finals, the Rollins College alum was able to play a few events on TOUR to start the year. Now that the Web.com Tour is about to get into the meat of its season, Oppenheim has turned his attention to trying to secure one of the 25 TOUR cards awarded at the Regular Season-ending WinCo Foods Portland Open in late August.
"I'm going to focus on the Web.com Tour the rest of the year," said Oppenheim. "This Tour is finally getting going. I took some time off the last few weeks to gear up for this stretch."
"I would love any starts I can get on the US PGA TOUR, but I'm not sure I'm going to get any more opportunities," he continued. "I've got to play better and hopefully I can take advantage out here so I can get back on TOUR."
Munoz is in the midst of his rookie campaign on TOUR. The 24-year-old from Bogota, Colombia, has competed in seven events and made three cuts. Last week, Munoz had a breakthrough in San Antonio and finished tied for 27th at the Valero Texas Open.
"I've learned a lot," said Munoz, about his first eight months on TOUR. "I'm excited to get back at it and hopefully this can give me a little confidence."
Munoz credits a change in mindset to his recent form and is hoping his new carefree attitude will lead
to more low rounds in the future. The University of North Texas alum eagled the par-5 18th hole after hitting his second to 12 feet with an 8-iron from 180 yards.
"I thought the course was playing fairly easy," said Munoz, who recorded six birdies, an eagle and a bogey on Thursday morning. "There were a lot of chances out there with the greens rolling so smooth. I'm glad I got to 7-under; tomorrow might be even better."
Straka entered the week No. 107 on the money list after a tie for 50th at the United Leasing and Finance Championship.
As darkness fell upon El Bosque CC, Straka closed out the best round of his rookie campaign on Tour. With birdies on 17 and 18, the 23-year-old from Vienna, Austria took a share of the 18-hole lead with Munoz and Oppenheim
Dornoch exile Jimmy Gunn shot a 71 for a T48 position going into Round 2.
* Thursday weather: Mostly sunny, High: 82, Low: 51, Winds: SW/WSW 6-12 mph.
* This week's purse is $650,000, with $117,000 going to the champion pair.
TO VIEW ALL THE SCORES
CLICK HERE
Labels: web.com tour