Johnson and Mickelson roll right along in Austin

By Ben Everill, US PGATOUR.COM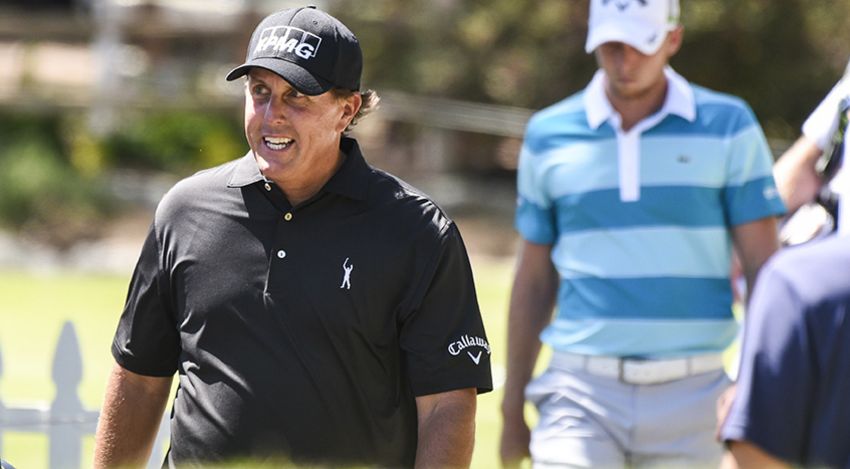 Despite going 3-0 during the first three days, Phil Mickelson admits to feeling some nerves heading into the weekend. (Keyur Khamar/US PGA TOUR
FROM THE US PGA TOUR WEBSITE
AUSTIN, Texas – Notes and observations from Friday's third round of the World Golf Championships – Dell Technologies Match Play, where the final 16 was set after some classic matches and exciting playoffs.
For more coverage from Austin Country Club,
click here for the Daily Wrap-up.
NERVOUS PHIL ADVANCES
Phil Mickelson dominated his group opponents over the first three days but the 42-time US PGA Tour event winner admitted the routs against Si Woo Kim (5 and 3), Daniel Berger (5 and 4) and J.B. Holmes (6 and 5) could provide some nervy moments over the weekend.
Mickelson has held the lead for 41 of the 42 holes he's played but hasn't had to play past the 15th hole.
"There's a good and a bad. I'm nervous that I haven't been in a match that has gone the last hole or two and feel that clutch pressure," Mickelson said.
"But also the good is that I have been able to conserve energy heading into this weekend. That is going to be a real key with four potential matches. If you keep playing well four potential matches, energy could be an issue."
He plays another well rested player in Marc Leishman, who thanks to Jason Day's withdrawal has only needed 35 holes.
In 12 previous appearances at the World Golf Championships – Dell Technologies Match Play Mickelson has only made the quarter-finals on one occasion, losing to Davis Love III in 2004.
It is the sixth time he has made it to the last 16 players, but not since 2009.
"To win the first three matches is a great start," Mickelson added.
"This weekend will be difficult. Every match out here is difficult. The guys that play this weekend are obviously playing well because they won their groups. It will be a continued challenge heading into this weekend. I'm looking for to it. I'm excited. I haven't been to the weekend in match play in a long time. This is really been fun."
RAHM RAMS IDOL SERGIO OUT
Jon Rahm would have liked to meet Sergio Garcia in the final of the WGC –Dell Technologies Match Play but after being drawn in the same group it was obviously not going to happen.
Instead Rahm was the victor in the all-Spanish battle on Friday, advancing with a dominant 6 and 4 win over his idol.
"I'd rather not play a fellow Spaniard. Obviously, representing Spain, we want as many Spaniards to make it as far as possible. But worse came to worse, and luckily whoever won today was going to make it through. Out of that, at least we are happy that was going to happen," Rahm said.

"We're friends and we know it was going to be a great battle. We knew we were going to have fun. And just the emotion, sentiment of being friends and being out here in the World Golf Championship, it really is something that wanted us to beat each other a little more, made it a little more special."
The 22-year-old Rahm, already a winner on the US PGA Tour this year at the Farmers Insurance Open, makes no secret of his admiration for Garcia.
He spent hours of his childhood scouring videos on the internet of his idol, and admits emulating Garcia's famous tree shot and run from the 1999 PGA Championship in his youth.
He faces Charles Howell III on Saturday morning, looking to get some Spanish revenge after the American bounced out the only other Spanish player, Rafa Cabrera Bello, in a play-off.
FRIDAY'S SUPERLATIVES
Match of the Day – Had to be the Kevin Na v Chris Wood rollercoaster. Na, who only needed a half to move through to the weekend shot out to a four-hole lead through seven holes with the help of five straight birdies from the second to the sixth.
But then Wood won six straight holes with four birdies and an eagle in the stretch to take the ascendancy.
Na attempted a late rally but was beaten 2 and 1. The American had the last laugh in the end, getting to the weekend though with a play-off win over Matt Fitzpatrick

.
Player of the Day – Hard to go past world no. 1 Dustin Johnson who advanced after a comfortable 5 and 3 win over fellow major winner Jimmy Walker. Johnson was 6 up after just seven holes, obliterating any chance Walker had of forcing a playoff for the group. Johnson had four birdies and an eagle in the 15 holes. He has led for all 46 holes he has played this week.
Biggest upset – Strictly by the numbers it was 63rd seed Si Woo Kim getting by 35th seed Daniel Berger 1 up. But a shout must go to Charles Howell III who, as the 61st seed, won his group by getting through a tense three-man playoff over Tyrrell Hatton (10th seed) and Rafa Cabrera Bello (22nd seed).
Hatton went out on the first hole controversially after failing to replace a moved ball on the green before Howell finally came through with birdie on the fifth playoff hole against Cabrera Bello.
Most birdies made – Matt Kuchar had 9 birdies in 16 holes to lead the way to a 4 and 2 win over Tommy Fleetwood. Sadly for the American it wasn't enough to advance to the round of 16.
Most holes won – Louis Oosthuizen won nine holes in his 6 and 4 win over Hideki Matsuyama, sending him into a playoff to advance. But Ross Fisher proved a tough opponent, with the Englishman making his move to the final 16.
TO VIEW ALL THE RESULTS
CLICK HERE
Labels: PRO GOLF