Weather reigns supreme at Riviera

By Ben Everill, PGATOUR.COM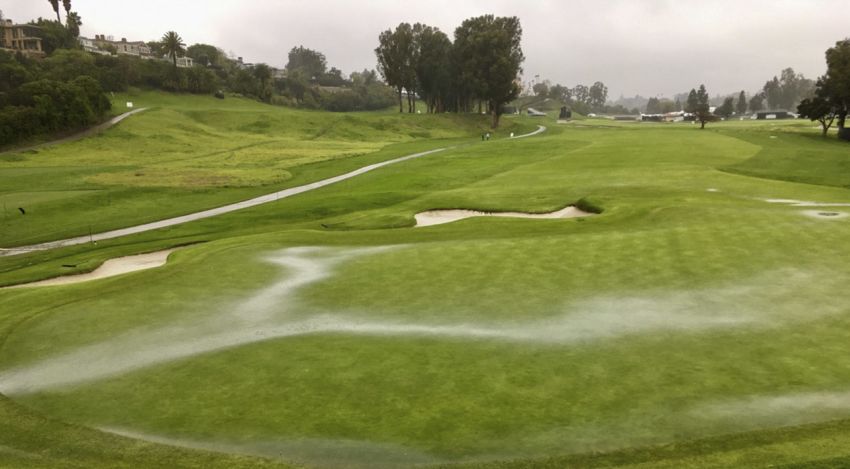 A flash flood watch along with high winds forced the suspension of play Friday at the Genesis Open. (Bill Cooney/PGA TOUR)
PACIFIC PALISADES, California – Notes and observations from Friday's abbreviated second round of the Genesis Open, where Sam Saunders and Jhonattan Vegas share the lead at 7-under. Heavy rain and wind suspended play with only 24 players completing Round 2.
Scot Martin Laird has completed 36 holes with rounds of 70 and 68 for 138 and a T10 position.
For more Round 2 coverage,
click here for the Daily Wrap-up
.
---
WEATHER WOES
A serious deluge and high winds forced play to end early on Friday with a clear majority of the field still playing or having not yet started the second round. Los Angeles is not known for rain but the city and Riviera Country Club were expecting one of its biggest storms in years.
The National Weather Service was expecting the storm to dump up to 6 inches of rain on Los Angeles County beaches and valleys and 5 to 10 inches on south-facing foothills and coastal mountain slopes.
As such a flash flood watch was issued from Friday morning through Saturday morning with most of that rainfall expected to fall within a short time Friday afternoon and evening.
Forecasters expect rain could potentially fall at a rate of more than an inch an hour, putting Saturday's 7 a.m. restart (local California time) in severe doubt.
Prior to the suspension of play eucalyptus branches had already begun to fall around Riviera forcing officials to act swiftly.
"We could have played a little bit more, but why? It's going to get nothing but worse as you can see. So my thought and the staff's thought was let's get the spectators and the players out of here and somewhere safe and we'll see what we do tomorrow," Mark Russell the PGA TOUR VP of Rules and Competition said.
"We're hoping for the best. Matt Morton and his staff do a great job here at Riviera. They're going to be in here very early. They're expecting high winds tonight and they'll probably have some cleanup to do but if we don't get that five inches of rain that they predicted, hopefully we can play golf in the morning at 7:00."
Riviera has faced rain battles in the past, no more so than in 2005 when Adam Scott was declared the unofficial winner through just 36 holes of play.
---
SPIETH ON THE MOVE
One man not ruffled by the tough conditions was last start winner Jordan Spieth. The nine-time US PGA Tour winner was three under on his second round through 16 holes to move up to 5-under, just two off the lead.
Having faced similar travails early in the AT and T Pebble Beach Pro-Am before going on to win Spieth felt right at home in the cold, wet blustery conditions.
"Last week actually was great prep for it because we played through conditions like this that first round so it was just about trying to stay patient," Spieth said.
"Things aren't going to always go your way on a day like today. Actually rarely they're going to go your way. So try and pick your spots on the easy holes and then from there hit putts with the right speed and make it as stress free as possible.
"It's obviously easier said than done. But very pleased with 3-under on this round. I didn't think I could get much more out of it."
Spieth did admit the other side of the draw is likely to have it better considering they didn't play in the wind and rain and will eventually return to a softer, more gettable golf course.
The likes of leader Sam Saunders, Phil Mickelson and reigning PGA TOUR Player of the Year Dustin Johnson have that luxury.
"Yeah it's a tough break on this wave, but that happens," Spieth said.
"Go out tomorrow and play a strong last couple holes and see if we can take advantage this weekend. I don't think the fairways are going to be much of a problem. It's the greens that it could be a lot tougher to putt on, on poa annua once they get soft.
"Again, very similar to last week, just trying to stay patient, not get too upset when you may hit a good shot and it may not turn out, or a good putt that may not go in. Just stay patient and let it kind of come to you."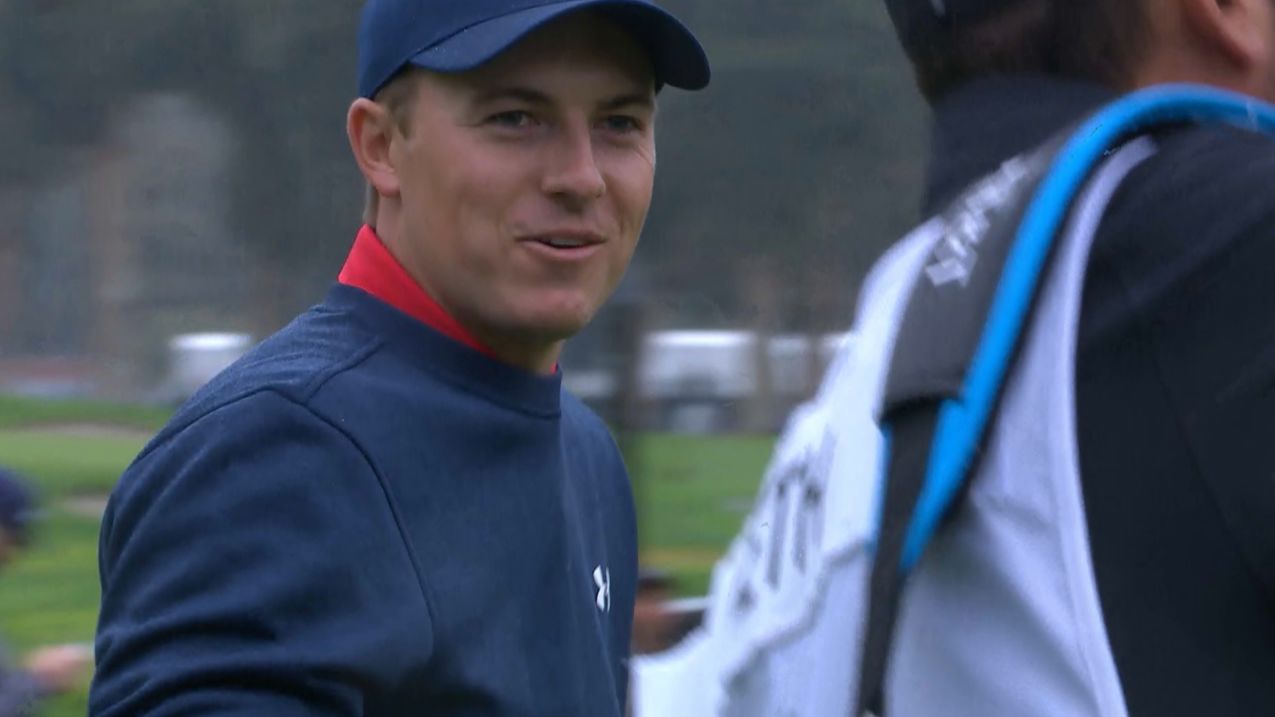 Jordan Spieth's lucky break yields birdie on No. 6 at the Genesis Open
---
VIVA VEGAS
While Sam Saunders maintained his lead without hitting a shot on Friday Jhonattan Vegas had to work hard in the winds to join him at the top.
Vegas backed up his opening 67 with a 4-under front nine in round two, finding the lead alone at 8-under when making the turn.
But a mini stumble on the usually gettable par-5 11th saw Vegas drop back into a tie at the top at 7-under where he remained through 14 holes.
While plenty of players were grumbling about playing in the wet Vegas maintained a positive attitude – one he's sported since winning the RBC Canadian Open last year.
The win in Canada helped surge the Venezuelan towards a 29th place finish in the 2015-16 FedExCup, securing a place in the opening three majors of 2017.
Having played just three majors in his career so far Vegas wants to not only become a regular in the big events but start contending in them.
And with his game and confidence in a good place he wants to ride some momentum towards Augusta National.
"I would say that (my game is) probably as good as it's ever been. I'm feeling absolute confidence," Vegas said.
"I feel like physically I'm in a good place, mentally I'm in a good place.
"I'm super motivated and really want to play well, and obviously the goal this year is to get into the majors and start competing and try to win one."
Labels: US PGA TOUR