Adam Hadwin takes four-shot Valspar lead
into final round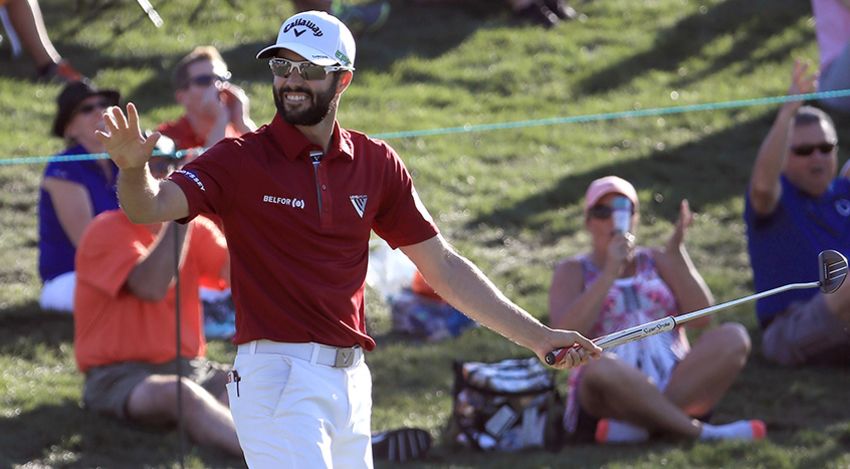 This is Adam Hadwin's second time holding the lead heading into the final round. (Sam Greenwood/Getty Images)
PALM HARBOUR, Florida –
Notes and observations from Saturday's third round of the Valspar Championship, where Canadian Adam Hadwin distanced himself from the field with a third-round 67 and will go into Sunday's final round primed for his first US PGA Tour victory.
Former top-ranked amateur Patrick Cantlay shot the best round of the day in the swirling winds at the Copperhead Course, a 5-under 66, to get to 10 under. He is in second alone, four back, with Jim Herman (71) in solo third at 9 under.
For more coverage from the Copperhead Course at Innisbrook Resort,
click here for the Daily Wrap-up.
---
---
HADWIN CREDITS BETTER ATTITUDE FOR LOWER SCORES
Adam Hadwin would seem to have a lot to smile about, given how well he is playing. But as he points out, he might be playing well precisely because he's smiling.
"It's been a long time coming that I figured that out; that smiling and enjoying life seems to lead to better golf," he said after shooting a no-bogey 67 that saw him go 6 for 6 in scrambling. "So it wasn't that long ago that I was breaking clubs and hawking things.
"Actually, if you guys really want a story," he added, "last year I broke a 7-iron here on the second hole. So, I've improved. I tossed it into a tree."
Hadwin is getting married in two weeks, and he credits his American fiancé Jessica for giving him a newfound sense of perspective. She is a non-golfer, but she studies his body language on the course, and tells him what she sees.
"I've just learned," Hadwin said. "I've really learned to calm down and stay patient. Understand that the shot that I'm hitting is not the most important thing in life right now, and you know, it's funny which came first: Me enjoying life and playing better golf, or playing better golf and enjoying life. It's hard to say, but the two go hand in hand."
Playing partner Jim Herman began the day just a shot behind, but shot an even-par 71 and lost three more shots to the leader.
"Adam played a fantastic round of golf today," Herman said, "so hats off to him."
TO VIEW ALL THE SCORES
CLICK HERE
Labels: US PGA TOUR