Bernhard Langer and Colin Montgomerie in contention at Regions Tradition
By Andy Swales
Bernhard Langer and Colin Montgomerie are six shots off the pace at the half-way stage of the year's first US senior major
.
Both players have registered back-to-back 69s at the Regions Tradition event in Birmingham, and are among a group of seven pros tied-for-10th at Greystone Country Club.
American Fred Funk, a two-time winner of the Tradition, has carded rounds of 67 and 65, to stand one shot clear of his little-known compatriot Scott Parel

.
Funk, who has made just a single bogey in his opening 36 holes, said he was looking forward to partnering Parel in round three: "Scott and I have become really good buddies but I've never played with him yet.
"I was just thinking, 'boy, it would be nice to play with him in the last round, last group.' I've got him, so that works out really good.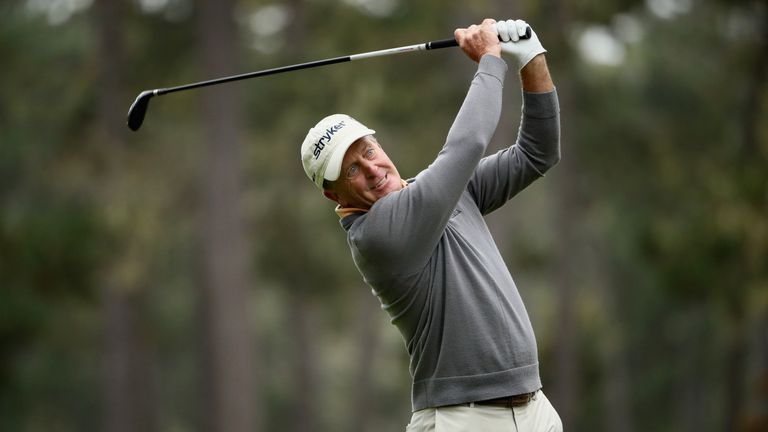 "I think combined we're not six-foot tall, but that's OK."
The 5ft 5in Parel, who turned pro at 31, is seeking a first tour victory and was only invited to compete following the withdrawal of Fred Couples.
Defending champion Langer remains in contention after a second 69 which contained a solitary bogey at the sixth hole.
Victory for the German would make him the joint-record holder for most senior major titles.
He currently has seven to his name, one behind Jack Nicklaus who claimed his eight wins between 1990 and 1996.
Montgomerie, meanwhile, had a mixed day on Friday combining six birdies with three bogeys.
The third round will have a two-tee start because of expected bad weather.
36-Hole Leaderboard:
132: Fred Funk (65)
133: Scott Parel (66)
135: Scott McCarron (70)
136: Kenny Perry (70)
136: Miguel Angel Jimenez (71)
136: Jeff Sluman (71)
136: Kevin Sutherland (68)
137: Rod Spittle (68)
137: Tom Lehman (68)
138: Bernhard Langer (69)
138: Joey Sindelar (69)
138: Duffy Waldorf (69)
138: Marco Dawson (71)
138: Colin Montgomerie (69)
138: Lee Janzen (73)
138: Glen Day (68)
Labels: Pro seniors