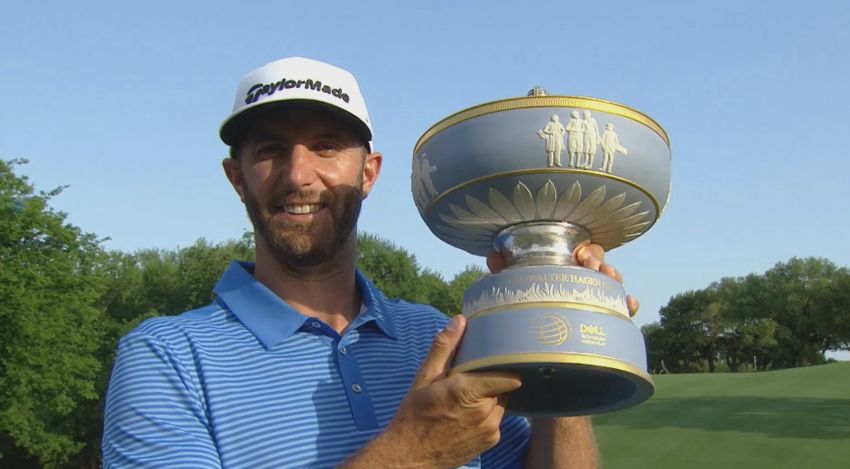 In the final matches of the 2017 World Golf Championships - Dell Technologies Match Play, Dustin Johnson defeats Jon Rahm on the final hole to earn his 5th WGC title and 15th win on the US PGA Tour.
AUSTIN, Texas – News and notes from Sunday's final day of the World Golf Championships-Dell Technologies Match Play, with Dustin Johnson beating Jon Rahm, 2 and 1, in the championship final at Austin Country Club.
Click here for the match recaps from Sunday.
---
DJ COMPLETES WGC SLAM
Tiger didn't do it. But Dustin Johnson has.
Although Tiger Woods has won more WGC events than any other player – 18, to be exact – he didn't win the HSBC Champions in either of his two starts. Johnson, meanwhile, has won the HSBC, back in 2013. He also won the Bridgestone Invitational twice. Earlier this month, he won the Mexico Championship.
And on Sunday, he became the first player to complete the WGC career slam, winning the Dell Technologies Match Play for the first time.
"Pretty awesome," said Johnson after his dominant week, in which he played 112 holes and never trailed after any of them. "Definitely kind of cool to be the first one to win all four. These are the biggest events besides the majors, with the best golfers in the world."
While Dustin can't match Tiger's success rate at the WGCs – Tiger has won 18 of his 44 WGC starts, a 41 percent win ratio, while Dustin has won five of 29 starts, a 17 percent clip – Johnson has the second most WGC wins of anybody other than Tiger.
But though Johnson – who also moved into No. 1 in FedExCup points with Sunday's win -- is the first to complete the WGC slam, he doesn't expect to be the last.
"I feel like there will be some more to do it," he said. "But I'm very, very pleased with it."
---
MAYBE RAHM WILL DO IT
Jon Rahm has played just two WGC events, and already the 22-year-old budding star from Spain has made an impact. He finished tied for third behind Johnson in Mexico, and now finished solo second in Austin.
His run was nearly as impressive as Johnson's. He won three of his first six matches in 15 holes or less. In his first 92 holes played, he trailed after just three of them. Only when Johnson grabbed the lead on the third hole and never let up did Rahm spend a significant amount of time playing catch-up – which he almost did.
Though disappointed in losing, he'll leave Austin focusing on the positives.
"It shows me that I can compete with someone like DJ and any other player, even if I had probably one of my worst front nines possible," Rahm said. "I'm probably going to learn a lot from this week … Unfortunately for me, today was the worst day I've played golf all week."
---
FROM 5 UP TO SWEATING IT OUT
Johnson was 5 up through eight holes in the final and looked to be on cruise control, while Rahm had, in his terms, reached a "very steep and deep low."
But Rahm won the next two holes thanks to Johnson bogeys. After DJ won the par-5 12th with a birdie, Rahm won three of the next four holes with birdies. That forced Johnson to hang on down the stretch, pushing him to an 18th hole that didn't appear likely two hours earlier.
Johnson denied that he let his foot off the gas.
"I felt like I was still attaching the golf course," he said. "You've got to make putts. And I felt like, especially this afternoon, it was really difficult, the wind was blowing, the greens got fast. So it was really tough to make putts."
Rahm, meanwhile, said his tee shot on the par-4 ninth – 374 yards that set up a conventional par – helped calm him down.
"Once I collected myself after that tee shot on 9, things went a little easier," Rahm said. "I was just waiting for Dustin to make a couple of mistakes. Luckily for me, he did, which he doesn't usually do, and I was able to take advantage of that. And my confidence and my emotions came back to normal."
---
HAAS MAKES PRESIDENTS CUP MOVE
Entering this week, Bill Haas was 20th in Presidents Cup points for the U.S. team. Thanks to his third-place finish – he beat Japan's Hideto Tanihara 2 and 1 in the consolation final after losing to Jon Rahm in the semifinals – Haas is now 14th in points.
Considering that Haas provided the clinching point for the U.S. team two years ago in Korea – with his dad Jay as the U.S. captain -- he'd dearly love another go. But he's not going to focus on the big picture but instead the week-to-week results.
"I try not to focus on the points list," said Haas after his best finish in an WGC event. "We've got enough stress. … It's hard not to think about it, but at the same time I don't think it helps me to play any better to know if I'm close.
"I still have four majors and THE PLAYERS Championship, a lot of good opportunities to play well. That's my goal – to play decent in a few of those. And if I do that, the rest will take care of itself."
---
TANIHARA'S ACE
Japan's Hideto Tanihara, seeded 54th, was the most unexpected participant to advance to Sunday. Though he lost both of his matches, he put up a tough fight, pushing Dustin Johnson to 18 holes in the semifinals, then leading the consolation match as late as the 12th hole before suffering three bogeys in his final five holes.
He also gave the crowd a big thrill at the par-3 seventh in his match against Haas, acing the 207-yard hole – the longest par 3 on the course – with an 8 iron. It's the fourth ace in tournament history.
"The crowd, they went wild," the 38-year-old Tanihara said. "And when everybody is happy, you tend to get happy too. So it was a great feeling."
Tanihara, a 14-time winner on the Japan Tour, now has three top-10 finishes in 44 career starts on the PGA TOUR.
Labels: PRO GOLF