Jon Rahm declared himself "honoured and humbled" to join a star-studded list of champions at the DP World Tour Championship after a dramatic final day of the season in Dubai.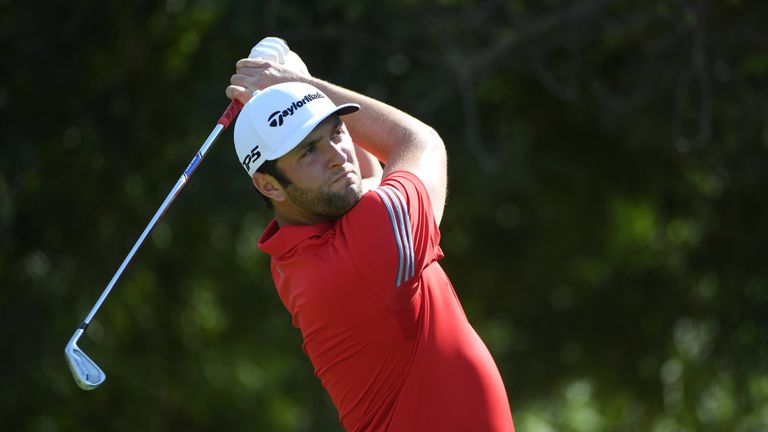 With most of the attention focused on Rose's duel with Tommy Fleetwood for the Race to Dubai title, Rahm kept a bogey off his card in a composed five-under 67 which ensured he edged out Shane Lowry and Kiradech Aphibarnrat.
The big-hitting Spaniard became the only multiple winner in the inaugural Rolex Series this season having stormed to a commanding win at the Irish Open in early July, capping a memorable first season on the European Tour

.
"It's a very special feeling," said the 23-year-old. "What I've done this year, especially on the European Tour from no member, nothing, to an affiliate member, to European Tour champion and to actually be twice Rolex Series champion and winner of the DP World Tour Championship, it's something unbelievable.
"When you accomplish something that wasn't a goal at the end of the year and you've accomplished something that was years down the road, it is just such an incredible feeling. It's very, very special.
"I'm extremely honoured and humbled to join my name to the winners of this event. They are all great players, some of them are European Tour legends, so it's just great to join them and get my chance to put my name on that great trophy
."
Rahm also enjoyed a superb season on the US PGA Tour, winning his first title with an entertaining eagle on the final hole at the Farmers Insurance Open, and he is now looking to build on his performances on both sides of the Atlantic with his long-term sights set firmly on making his Ryder Cup debut for Europe next year.
"When you want things to happen but when you actually achieve them, winning the Tour Championship is one of them," he added. "It changes the whole perspective. It's the last tournament of the year, and to get it done the last week proves to myself that I belong here.
"I belong on the European Tour and I belong on the US PGA Tour. It's a great week for me mentally in that sense and, hopefully, it reinforces my position to maybe be considered for the Ryder Cup next year.
"We still haven't set the schedule so that's something I'm going to look at. I'm going to try to come to Europe. I love coming to Europe, clearly. I have success in Europe and I want to keep coming, have a lot of fun and hopefully keep playing good golf."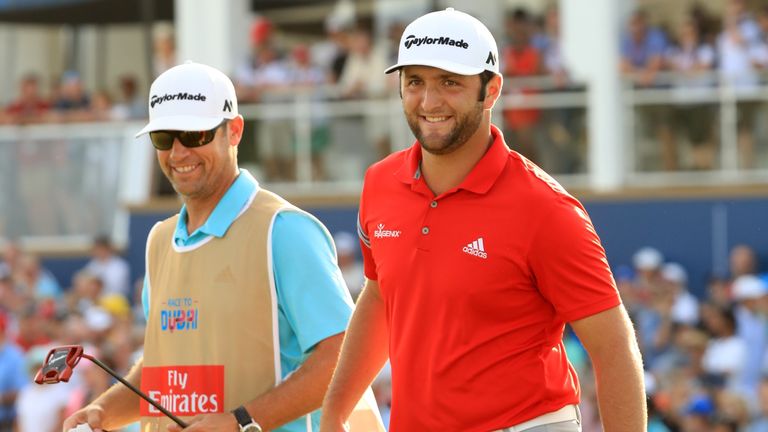 Rahm had seemed to be too far back to contend midway through his second round as he turned in 37 to be just two under for the tournament, but he kick-started his challenge with five birdies on the back nine before rounds of 65 and 67 over the weekend propelled him to the top of the leaderboard.
"I can't tell you what happened on the first 27 holes," he added. "It's not like I played bad, it's just I felt like every mistake I made, every bad shot, led to a bogey which is going to be costly here. But that back nine I had on Friday was great. I played really, really good golf and I got fortunate to make a few good putts and that's what got everything going.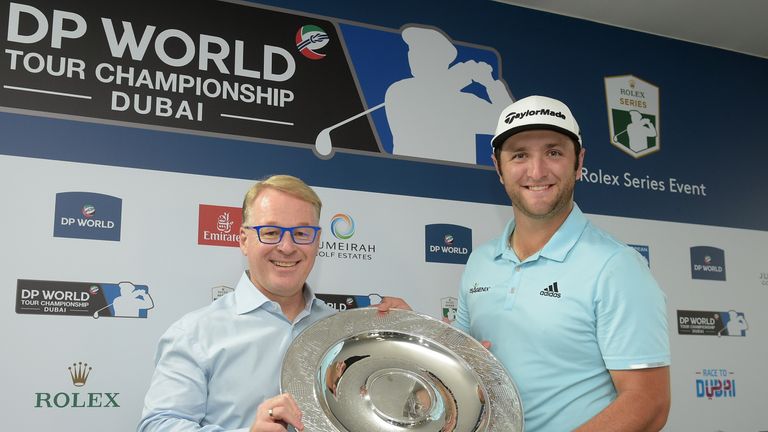 "Yesterday I played one of the best ball-striking rounds I've ever had. There's not many times where you play a golf course like this and shoot 65, you're two off the lead and you feel like you could have shot a lot lower.
"Today was a little bit of the opposite. I didn't hit it that good compared to the other days, but I kept my composure, didn't make mistakes, had no bogeys, five birdies. I just hoped I was going to have my chances, and that's what happened.
ALL THE FINAL TOTALS AND PRIZEMONEY
1

RAHM, Jon (Spain)

-19

69

68

65

67

0

0

269

1,175,051

€ 1,175,051

2

APHIBARNRAT Kiradech

THA

-18

69

67

67

67

0

0

270

612,356

€ 612,356

2

LOWRY Shane

IRL

-18

69

70

68

63

0

0

270

612,356

€ 612,356

4

BURMESTER Dean

RSA

-17

70

68

65

68

0

0

271

280,845

€ 280,845

4

FRITTELLI Dylan

RSA

-17

71

68

63

69

0

0

271

280,845

€ 280,845

4

GARCIA Sergio

ESP

-17

70

69

67

65

0

0

271

280,845

€ 280,845

4

ROSE Justin

ENG

-17

66

70

65

70

0

0

271

280,845

€ 280,845

8

HATTON Tyrrell

ENG

-16

72

63

69

68

0

0

272

173,306

€ 173,306

8

SURI Julian

USA

-16

68

68

68

68

0

0

272

173,306

€ 173,306

10

REED Patrick

USA

-15

65

72

68

68

0

0

273

140,694

€ 140,694

10

UIHLEIN Peter

USA

-15

71

68

65

69

0

0

273

140,694

€ 140,694

12

FITZPATRICK Matthew

ENG

-14

67

67

72

68

0

0

274

126,025

€ 126,025

13

DUBUISSON Victor

FRA

-13

75

67

68

65

0

0

275

110,492

€ 110,492

13

LI Haotong

CHN

-13

72

69

67

67

0

0

275

110,492

€ 110,492

13

LORENZO-VERA Mike

FRA

-13

70

72

65

68

0

0

275

110,492

€ 110,492

13

PAVON Matthieu

FRA

-13

71

70

67

67

0

0

275

110,492

€ 110,492

17

BJÖRK Alexander

SWE

-12

67

71

67

71

0

0

276

93,285

€ 93,285

17

FISHER Ross

ENG

-12

71

68

68

69

0

0

276

93,285

€ 93,285

17

KAYMER Martin

GER

-12

68

72

67

69

0

0

276

93,285

€ 93,285

17

MOLINARI Francesco

ITA

-12

69

71

68

68

0

0

276

93,285

€ 93,285

21

CABRERA BELLO Rafa

ESP

-11

73

69

66

69

0

0

277

82,929

€ 82,929

21

FLEETWOOD Tommy

ENG

-11

73

65

65

74

0

0

277

82,929

€ 82,929

21

PORTEOUS Haydn

RSA

-11

70

70

69

68

0

0

277

82,929

€ 82,929

24

LIPSKY David

USA

-10

70

72

64

72

0

0

278

78,523

€ 78,523

25

DUNNE Paul

IRL

-9

67

70

67

75

0

0

279

74,117

€ 74,117

25

SHINKWIN Callum

ENG

-9

72

69

66

72

0

0

279

74,117

€ 74,117

25

SMITH Jordan

ENG

-9

75

67

71

66

0

0

279

74,117

€ 74,117

28

FOX Ryan

NZL

-8

67

71

73

69

0

0

280

67,507

€ 67,507

28

SCHWARTZEL Charl

RSA

-8

70

72

67

71

0

0

280

67,507

€ 67,507

28

WANG Jeunghun

KOR

-8

71

70

70

69

0

0

280

67,507

€ 67,507

31

GRACE Branden

RSA

-7

72

71

68

70

0

0

281

59,117

€ 59,117

31

POULTER Ian

ENG

-7

70

69

70

72

0

0

281

59,117

€ 59,117

31

STERNE Richard

RSA

-7

71

71

66

73

0

0

281

59,117

€ 59,117

31

WARING Paul

ENG

-7

70

74

70

67

0

0

281

59,117

€ 59,117

31

ZANOTTI Fabrizio

PAR

-7

67

75

70

69

0

0

281

59,117

€ 59,117

36

DODT Andrew

AUS

-6

70

77

69

66

0

0

282

50,454

€ 50,454

36

HORSEY David

ENG

-6

68

76

68

70

0

0

282

50,454

€ 50,454

36

KJELDSEN Søren

DEN

-6

68

69

70

75

0

0

282

50,454

€ 50,454

36

LEVY Alexander

FRA

-6

67

76

70

69

0

0

282

50,454

€ 50,454

36

OLESEN Thorbjørn

DEN

-6

74

68

69

71

0

0

282

50,454

€ 50,454

36

RAMSAY Richie

SCO

-6

72

72

68

70

0

0

282

50,454

€ 50,454

42

DRYSDALE David

SCO

-5

73

72

69

69

0

0

283

44,461

€ 44,461

42

OTAEGUI Adrian

ESP

-5

71

69

70

73

0

0

283

44,461

€ 44,461

44

LUITEN Joost

NED

-4

73

70

71

70

0

0

284

42,214

€ 42,214

45

JAMIESON Scott

SCO

-3

76

71

66

72

0

0

285

39,217

€ 39,217

45

NOREN Alex

SWE

-3

74

69

70

72

0

0

285

39,217

€ 39,217

45

WIESBERGER Bernd

AUT

-3

71

76

71

67

0

0

285

39,217

€ 39,217

48

HEND Scott

AUS

-2

66

71

71

78

0

0

286

33,974

€ 33,974

48

PEPPERELL Eddie

ENG

-2

75

70

66

75

0

0

286

33,974

€ 33,974

48

SULLIVAN Andy

ENG

-2

68

76

69

73

0

0

286

33,974

€ 33,974

48

WARREN Marc

SCO

-2

72

76

68

70

0

0

286

33,974

€ 33,974

52

STORM Graeme

ENG

-1

76

74

66

71

0

0

287

29,479

€ 29,479

52

WESTWOOD Lee

ENG

-1

75

73

68

71

0

0

287

29,479

€ 29,479

54

TANIHARA Hideto

JPN

0

73

77

67

71

0

0

288

27,232

€ 27,232

55

COLSAERTS Nicolas

BEL

+4

68

76

72

76

0

0

292

24,985

€ 24,985

55

LARRAZÁBAL Pablo

ESP

+4

69

70

74

79

0

0

292

24,985

€ 24,985

57

WOOD Chris

ENG

+5

70

74

70

79

0

0

293

22,737

€ 22,737

58

BJERREGAARD Lucas

DEN

+6

75

74

68

77

0

0

294

21,327

€ 21,327

58

COETZEE George

RSA

+6

70

76

75

73

0

0

294

21,327

€ 21,327

58

PIETERS Thomas

BEL

+6

74

74

72

74

0

0

294

21,327

€ 21,327
Labels: EUROPEAN TOUR