Winner Justin is a doubting Thomas when it comes to talk of being world's best golfer
By Keith Jackson, SkySports.com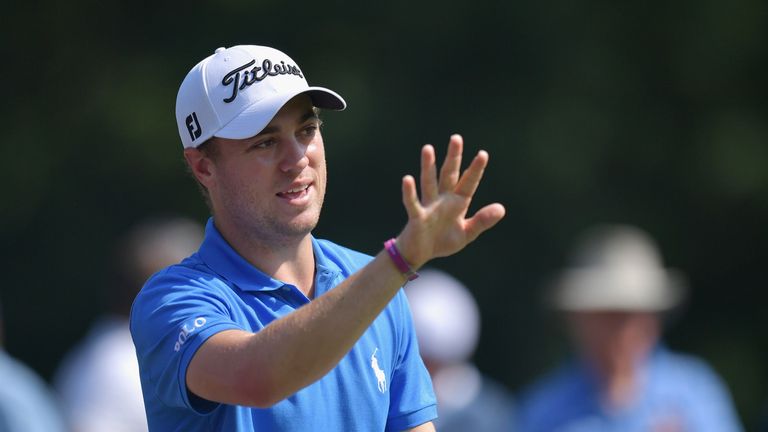 Justin Thomas was reluctant to declare himself as the best player in the world on current form following his thrilling victory at the Dell Technologies Championship yesterday.
Thomas held firm down the stretch as closest rivals Jordan Spieth and Marc Leishman frittered away shots after both stormed to the turn in 30, and the US PGA champion ran out a three-shot winner with a final-round 66 at TPC Boston. It was his fifth win of the season.
The 24-year-old has enjoyed a record-breaking year which began with back-to-back victories in Hawaii, the second of which saw him become the youngest player on the US PGA Tour to shoot a 59 at the Sony Open.
Thomas also set a new US Open benchmark with his third-round 63 at Erin Hills - the lowest single-round score in relation to par in the tournament's history, and he then made his major breakthrough with a stunning performance at Quail Hollow last month.
His win in Boston was his fifth title of a remarkable season and lifts him to fourth in the world rankings, but he was careful to play down talk of him being the world's best golfer at the moment.
"

It's just such a vague question, I guess. With my career stats, I'm not even remotely close to being remotely close to being the best. So it's like I can never compare that," said Thomas, who then made reference to his close friend and three-time major champion Spieth, who finished solo second after a disappointing back-nine

.
"I have some of my best friends have won way more than I have and won more majors," Thomas added. "When you look at it that way, it's like, no. When you put our stats head-to-head throughout our career, I would say no. So I guess in that regard, I'm not.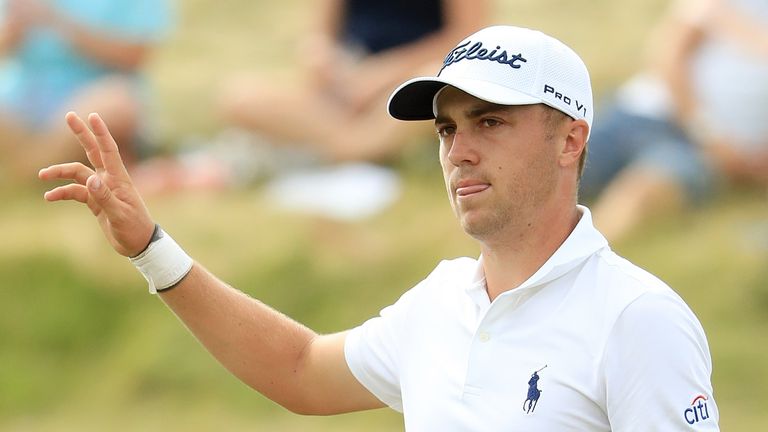 "But I feel confident when I get in these situations like today, or like I did at the PGA, I feel like I can get it done. I feel like I've proven that I can get it done. It's just that no one is the best in the world. It's really, whoever is playing the best at that time."
Thomas is now looking forward to recuperating as the FedExCup Play-Offs take a week off, and he is confident he can stay in contention for the $10m bonus over the final two events of the season - the BMW Championship and the Tour Championship.
"Right now I'm just worried about getting rest, I'm tired," he said. "I'm excited to go home and sleep in my own bed. I feel as like I've been gone for so long. I've done a lot of traveling, so that stuff wears on you. So I'm excited to go home and not touch a club for a couple days and enjoy Florida.
"I'm going to Chicago a little early and hang out. My girlfriend lives there. So just go there and play the golf course, and, then, once that week comes, then I'll be hopefully ready to go."
LEADING FINAL TOTALS AT TPC BOSTON
Players from USA unless otherwise stated
267

Justin Thomas 71 67 63 66
270

Jordan Spieth 72 65 66 67
271

Marc Leishman (Australia) 67 69 65 70
272

Jon Rahm (Spain) 67 66 71 68, Paul Casey (England) 70 65 67 70
273

Kevin Na 68 69 70 66, Patrick Reed 71 67 69 66, Pat Perez 72 67 67 67, Phil Mickelson 69 67 69 68
SELECTED TOTALS
274

Justin Rose (England) 72 65 69 68 (T10)
279

Ian Poulter (England) 71 73 69 66 (T23).
282

Sergio Garcia (Spain) 67 73 75 67 (T35)
283

Martin Laird

(Scotland) 74 70 70 69 (T40).
287

Russell Knox

(Scotland) 72 72 72 71
Labels: US PGA TOUR