Yorkshire and BB and O will battle for English
boys' county championship
Yorkshire and BB and O – Berks, Bucks and Oxon – will go head to head tomorrow in the battle for glory in the English boys' county championship

.
They set up the grand finale at Northamptonshire County Golf Club when they both won their matches today, Yorkshire beating Staffordshire 7.5-1.5 and BB and O finishing bravely for their 5-4 win over Somerset.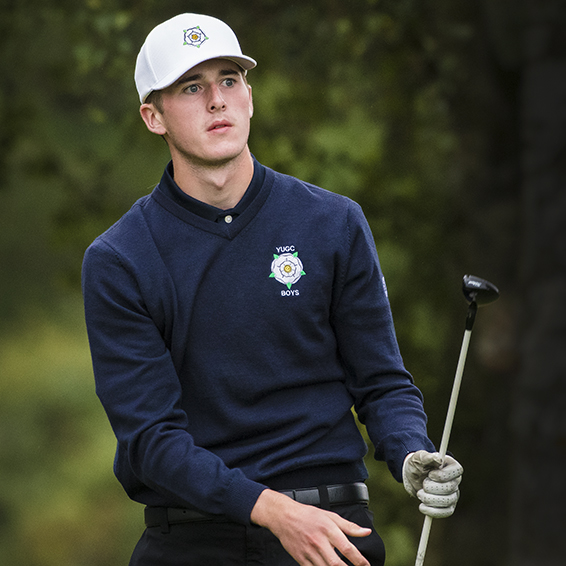 If Yorkshire win tomorrow it will be their eighth victory, with the most recent in 2012. For BB and O it would be their first win since their sole success in 1999.
It promises to be a great battle. On paper BB and O are the favourites, with the lowest handicap aggregate in the field; on the evidence of the play so far, Yorkshire are very dangerous having swept aside their two opponents, conceding just 2.5 points in two days.
"BB and O are the team to beat," said Yorkshire coach Steve Robinson. "We will just have to prepare and do our best."
"Yorkshire are very strong," said BB and O manager Marc Grimsey. "But we have a lot of quality in our team and I have no doubt that if they play to their best it will be a really great match."
Yorkshire dominated their match from the word go, winning all three foursomes despite spirited play from Staffordshire. It gave them the platform to forge ahead and they quickly secured the match with wins from Michael Hay (3 and 2) and Charlie Daughtrey (5 and 4), both of whom barely put a foot wrong.
George Heath (pictured top left) added his point when he got the better of a low-scoring game against Staffordshire's James Wickes. Between them, the pair had eight birdies in 13 holes, but it was Heath who always had the edge and won 2 and 1.
Callum Macfie won by the same margin, but James Swash had to settle for a half after James Bailey came back from two down on the 13th tee. The Staffordshire player began his fightback with a shot to the par three 12th which finished on the edge of the hole.
Staffordshire's point was scored by Ollie Read who was two down after 13 but played the remaining holes in two-under par to win by two holes.
The day's other match began with Somerset in the lead after the foursomes. They won two of the three games with grandstand finishes, courtesy of the pairings of Huxley Howell and Louis Archer; and Adam Jolly and Ollie Brimfield.
But BB and O wasted no time in redressing the balance when the singles got underway. England boy international Conor Gough won 7 and 6, Harrison Arnold (pictured right) soon followed him with a 6 and 5 win, and before long Melan Dhaubhadel provided the fourth point of the day with his 3 and 2 win.
BB and O needed one point from the remaining three games – and Somerset made them work for it in an exciting finish. First, Louis Archer won his point for the South West side, then BB and O's Seb Tannum Donaldson was pulled back to all square after 16 while his team mate Taylor Paul went two down after 16.
Tannum Donaldson eased the BB and O nerves when he holed out from about 5ft on 17 to go one up and he confirmed the team's win on 18, after his opponent tangled with a bunker and then deep rough.
Behind them, Ollie Brimfield won the final game for Somerset.
Images copyright Leaderboard Photography
-ENDS-
For further information contact:
Labels: Boys